Source: CIRAS
Thousands of face shields are scheduled to be delivered to Mary Greeley Medical Center this month as part of a CIRAS-coordinated effort to help Iowa manufacturers meet this state's tremendous demand for personal protection equipment.
That's just one of many instances where Iowa industry is coming together to overcome COVID-19.
Gov. Kim Reynolds last week praised Metalcraft and John Deere for their efforts to make PPE. Meanwhile, broad campaigns in Ames, Iowa City, Cedar Rapids, and elsewhere are seeing 3D printers tasked to make equipment for first responders. Dozens of manufacturers have converted their operations to making face shields, cotton masks, and patient gowns by the thousands.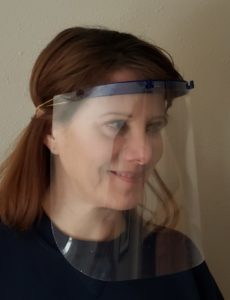 "We're just trying to help out where we can," Metalcraft COO Kyle Bermel told the Mason City Globe-Gazette.
CIRAS continues working with hospitals, state agencies, and other professional associations to find fast solutions to emerging PPE needs. Our goal is for Iowa companies to take the lead in fulfilling manufacturing requests, because doing so allows companies to mitigate the pandemic's impact on their businesses and employees. CIRAS has supported this work by coordinating designs, finding raw materials, and locating production capacity. More details on those efforts will be forthcoming.
But PPE isn't our only focus.
After a decade of responding to various Iowa emergencies, CIRAS has developed a robust emergency response and continuity plan. We activated these plans roughly one month ago and recently expanded our team focused on COVID-19 response and recovery. Over the past few weeks, CIRAS has launched several new services and refocused others in a bid to help Iowa companies deal with the pandemic's impact. For the foreseeable future, much of the work at CIRAS will focus on helping clients in the following ways:
Helpline: info@iastate.edu. CIRAS experts are standing by to help you filter the noise and decide what actions you can implement to keep your employees safe and maintain your businesses. Our team also is reaching out to manufacturers directly to see how CIRAS can assist.
Finding capital. A variety of entities have launched programs to make more financial capital available to businesses affected by COVID-19. CIRAS is working to help companies assess their needs and determine which programs they should access.
Replacing revenue. CIRAS experts have tools to help companies find alternate markets for replacing demand that has suddenly dropped because of the pandemic.
Scouting suppliers. For businesses with virus-instigated supply chain issues, CIRAS connections can help identify manufacturers capable of making critical products.
Operating effectively. CIRAS has checklists to help companies determine best practices for cleaning, social distancing, and other HR concerns. You can find that and more COVID-19 information at ciras.iastate.edu/covid-19/.
Finding education online. To facilitate social distancing, we've moved many of our normal educational events online for the duration of the pandemic, and we will begin releasing more options for online content.
For more information, email ciras.info@iastate.edu and we will respond within 24 hours.
Read the article at newswire.ciras.iastate.edu/