This article was originally posted on September 19, 2017 via CIRAS newswire
CIRAS' top two administrators have been honored by the Iowa Association of Business and Industry (ABI) for their work trumpeting Iowa manufacturing.
CIRAS Director Ron Cox and program director Mike O'Donnell, head of CIRAS' Manufacturing Extension Partnership, jointly received ABI's Manufacturing Champion Award at a dinner for Iowa business leaders on Tuesday.
ABI's annual Legends of Manufacturing Dinner is the introductory ceremony to the association's annual Advanced Manufacturing Conference, which is being held Wednesday in Altoona.
In announcing the award, Tina Hoffman, communications and marketing director for the Iowa Economic Development Authority, praised Cox's "two-decade record of public service while acting as a relentless advocate for Iowa manufacturing." O'Donnell likewise was praised for having spent "nearly a decade working to improve Iowa industry and to help Iowa manufacturers make their businesses better."

Both Cox and O'Donnell attended Tuesday's dinner without knowing they were going to be receiving an award.
"Unlike everybody else out there, I am surprised," Cox said as he assumed the podium. He noted that there only four parts of an economy that can truly be said to create wealth – agriculture, mining, construction and manufacturing.
"Thank you to everyone for this award," Cox said. "Especially, thanks to all the manufacturers in the room and across Iowa who create wealth every day. You don't just move money around, you make Iowans' standard of living better every day. I appreciate it."
O'Donnell likewise told the group that he was taken by surprise and had no prepared remarks. "But I know a few people who I have to have conversations with later about not knowing about this," he said to chuckles in the room.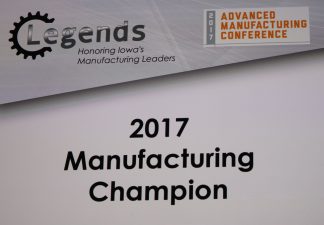 "Thank you all for all the things you do for manufacturers across the state," he said. "Thank you for all the jobs you create, all the great things you do in the state. Thanks a lot."
Ron Cox, who has served as CIRAS director since 2001, started his professional career in 1979 as an aerodynamics engineer for General Dynamics in Texas. After working both in industry and in academia in Oklahoma – he spent six years as an assistant professor of aerospace and mechanical engineering for the University of Oklahoma – Cox joined CIRAS as a field agent in 1997. During his tenure as director, Iowa companies working with CIRAS have reported more than $5.4 billion of economic impact from the projects that have taken place. In 2016 alone, CIRAS worked with more than 1,600 businesses in 96 counties, where its work improved sales, reduced costs, and generated investment to the tune of more than $400 million.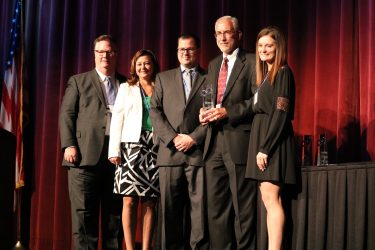 Most recently, Cox has had an active role in helping plan and execute Iowa's Year of Manufacturing initiative. Cox continues to champion the need to grow manufacturing and industry throughout the state. He recently stepped down from his role as associate dean in Iowa State's College of Engineering so that he can devote more time to work at CIRAS and to influencing Iowa economic development policy.
Mike O'Donnell, who oversees CIRAS' largest program targeted at assisting Iowa manufacturers, began his professional career in 2001 by joining the Operations Leadership Development Program for Lockheed Martin Corporation. He worked as a senior engineering planner and a staff project specialist at Lockheed before moving to Australia in 2007 to become product improvement engineering manager for Sunbeam Corporation in Sydney. The role involved extensive work with Sunbeam's partners to improve the engineering and quality of multiple products sourced throughout the Asia Pacific and European regions.
O'Donnell joined CIRAS in 2008 as a project manager focused on emergency and supply chain management. Three years later, he was named Iowa program director for the Manufacturing Extension Partnership (MEP), a federal public-private partnership that includes more than 1,300 manufacturing experts helping companies in all 50 states plus Puerto Rico. As MEP director, O'Donnell helped create the Iowa Sustainable Business Forum in 2014 and has sat since 2013 on the ABI Advisory Council. He also served as secretary of the Foundation for Manufacturing Excellence in 2015 and was named the group's vice chair in 2016.
Read the article at newswire.ciras.iastate.edu